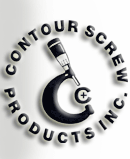 Contour Screw Products is a Family Business that for over 30 years has been Providing Precision Manufacturing. Our Factory Provides 28,500 Square Feet of Manufacturing Area. Located in Arlington Heights, IL please contact us with your Manufacturing needs.

Contour Screw Products Provides:

Full Engineering Service


Long and Short runs, all Materials "Prompt Quotations"


Multiple Spindle ASM (2-1/4" Max Diameter)


Single Spindle ASM (2-3/8" Max Diameter)


Swiss ASM to (22mm (.787") Max Diameter)


Complete Secondary Facilities


Centerless Grinding ( Infeed and Throughfeed to 3-1/2" Max Diameter)


Cylindrical Grinding


Milling


Broaching


Honing

CONTOUR SCREW PRODUCTS INC.